Top 10 Things In Calgary
Top 10 Things to do In Downtown Calgary
While Calgary has the global reputation of being the home of a bunch of Oil-Loving Cowboys, it's downtown is home to a surprisingly diverse group of cultural centres. Calgary's Chinatown is by far the best place in the city to experience some Oriental Culture.Check out the U and Me Dim Sum Restaurant for some fantastic, authentic Chinese food.

Okay, so it's not the tallest building in Calgary anymore, but it still has a great view through its 360 degree windows and the glass floor. It also has a great restaurant on the top, which slowly rotates to give a full panoramic view as you eat your food. Just... don't sit backwards.
#8. Fort Calgary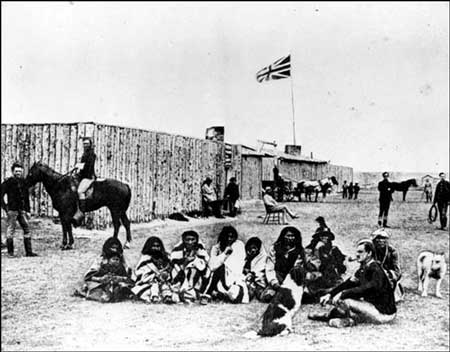 Once upon a time, Calgary was just a small frontier fort on the banks of the Bow River. This Heritage Site stands as a testament to the bravery (and sheer lunacy) of those first settlers who picked an endless frigid prairie as their home.
The 9 floors of the Glenbow Museum are home to some truly great exhibits. Currently, they are showcasing an exhibit called Faerie Tales, Monsters and the Genetic Imagination, a truly fascinating exhibition of works by artists who are inspired by the fantastic stories and characters of myths, fairy tales and science fiction in which the boundaries between human and animal are blurred.
Built in 1891, this mansion, carriage house, Beaulieu Gardens and 2.8-acre estate was home to one of the most affluent and dynamic families in Western Canada. Due to the recent death of Peter Lougheed, this beautiful property is particularly poingant right now. Book a historic tour, or just have lunch in the intimate dining room.
Â
Â
Looking for something cool that the whole family will enjoy? Look no further. Calgary's Emporium of Mind-Blowing Science (which would be a WAY better name for the place) is currently the first new Science Centre in the last 25 years. Featuring an HD Digital Dome Theatre, live Science Demonstrations, Drop-In Workshops, and an exclusive Adults Only feature every second Thursday of the month (kind of flying in the face of the whole famil-friendly bit I mentioned earlier, but it's all good).

Who doesn't like cute animals? Right now, the Calgary Zoo is the proud home to a horde of cuddly penguins. And, if that doesn't turn your crank (perhaps you're a robot?) then there's the Dinosaur Park, the Tiger Cages, and a Botanical Garden as well.
11th Ave used to be a vast collection of bars and night clubs. These days, it's a vast collection of home decor stores, galleries, trendy boutiques, and bars and night clubs.
Downtown Calgary is home to a plethora of shopping areas. Luckily, the areas are mostly specialized, so it's easy to both window shop and power shop effectively.
TD Core: A vast conglomeration of stores roosting in some of the largest office towers of downtown Calgary. There is much to see here.
Fashion Central: A relatively new addition, Fashion Central is the place to go if you want an outfit that no one else has.
Art Central: The precursor to the newer Fashion Central, Art Central is a great little collection of boutiques.
Man oh man, do we ever love our sports here in Calgary. Regardless of what season we're in, there's some great games going on somewhere.
Calgary Stampede: If you're visiting the city in July, you're probably here for the Stampede anyways. If not then you should really come and check it out. It's not called the 'Greatest Outdoor Show on Earth' for nothing.
Spruce Meadows: Horse Racing, Horse Jumping, Horse everything, really. Spruce Meadows is a world class Equestrian Facility. I'm not kidding. It even has it's own airstrip for private jets to land on.
Canada Olympic Park: Downhill and Cross-Country Skiing, Snowboarding, Ski Jumping, Bobsledding, Mountain Biking, Downhill Biking, Running, Ziplines, and more. All of it within City Limits.
Olympic Oval: Ice Skate to your heart's content here, any time of the year.
Book Now